Stainless Steel Pipes
Stainless Steel Pipes
Information
Stainless steel pipes are used in transferring of liquids in high temperature appli­cations. The properties of stainless steel pipes are resistance to corrosion, high ductility, formability and low maintenance. Stainless steel pipes are typically classified or distinguished based on their end use function, environmental conditions, types and grades.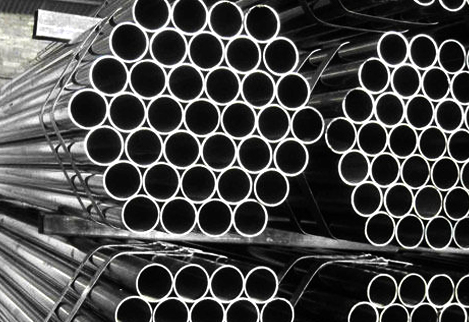 Applications
Uses of stainless steel pipe include chemical plants, aviation, marine equipment, food and beverage, oil and gas, pharmaceutical, mining and architectural industries.
Grades
One of the most preferred stainless steel grades for tubing and piping applications is Grade 304 stainless steel. Grade 304 stainless steel has high chemical and corrosion resistance, but is not compatible with applications where temperatures fall in the range of 800 – 1640 degrees Fahrenheit (F) because of its proneness to carbide precipitation. Conversely, Grade 304L stainless steel pipe does not have this issue because of its lower carbon content limit, thus making it suitable for welding and higher temperature applications. Other types of stainless steel often possess additives, such as nickel or molybdenum, which strengthen properties that are desirable in particular applications.
Common Grades, Sizes and Specifi­cations
| Grades | Width | Length | Thickness |
| --- | --- | --- | --- |
| 304/304L | Up to 24" | Up to 6000mm | SCH 10S to SCH 80S |
| 316/316L | Up to 24" | Up to 6000mm | SCH 10S to SCH 80S |
Other stainless steel pipe sizes and grades are available upon request. You can request to cut your stainless steel pipe down to size.
Classifications
| Types | Description |
| --- | --- |
| Stainless Steel Pipe for General Corrosion Resistance | Made with chromium and manufactured to be annealed or heat treated. Ideal for applications that require corrosion resistance. |
| Stainless Steel Pressure Pipe | Made from either solid chromium or a chromium and nickel combination. Different types of stainless steel pipes include electric fusion welded pipe used for high pressure applications, seamless and welded pipe, welded pipe with large diameter for high temperature applications and ferritic stainless steel pipe. |
| Stainless Steel Sanitary Tubing | High corrosion resistance, does not tarnish and is easy to keep clean. Used for applications where stainless steel pipes come into contact with food and other sensitive products. |
| Stainless Steel Mechanical Tubing | Can be manipulated to have a variety of cross-sectional shapes, such as square and rectangular. Used in mechanical applications such as cylinders, bearings and other hollow formed parts. |
| Stainless Steel Aircraft Tubing | High strength, weldability with heat and corrosion resistance. Used in highly specific aircraft applications that require welded and seamless tubing in large sizes. |
| Aircraft Hydraulic-Line Tubing | Typically small in size with high strength, corrosion resistance and ductility. Used in aerospace applications such as fuel lines and hydraulic systems. |
Kian Huat Metal
Kian Huat Metal is the Singapore's leading stainless steel pipe supplier with a wide distribution network that spans over 20 countries in the Asia Pacific region. With over 30 years of experience, we provide the very best quality products, prompt delivery and highest standard of services at competitive prices. At Kian Huat Metal, we supply an extensive range of metals for various applications. Our inventory includes: stainless steel, structural steel, mild steel, galvanized steel, aluminium, brass, bronze and copper. Our hot rolled and cold rolled steel is available in a wide range of shapes including: bars, rods, universal beams, universal columns, pipes, hollow sections, channels, sheets and plates. We can cut according to your exact specifications. Contact us for Stainless Steel Supplier Singapore at reasonable prices.

quality assurance
We ensure product quality and consistency through best practices and quality control that conform to local and international standards.

on time delivery
Our highly skilled team of drivers will ensure your orders are delivered within the time requested.

one stop shop
We offer a competitively priced and extensive range of steel products for all industries.
send an enquiry
If you have any questions related to our products or inquiry, we are happy to assist you. We will answer you via email as soon as possible. If you prefer to be contacted by phone, please leave your phone number. *
TRUSTED BY COMPANIES WORLDWIDE