Expanded Metal Mesh
Expanded Metal Mesh
Information
Expanded metal mesh, also known as expanded metal, is made through a pressured slitting and stretching process to create diamond-shaped openings in metal sheets. The mesh design results in open areas that allow for air, light and water ventilation, while still acting as a barrier to larger objects. Expanded metal mesh is produced in a standard (raised) diamond pattern or a flattened variety, usually made of aluminium, carbon steel, galvanized steel or stainless steel. In some cases, expanded metal mesh is considered an alternative to sheet metal or wire mesh. It combines some of the best features of both materials by providing a material that is stronger than thin wire mesh and has better air flow and drainage than sheet metal. Expanded metal mesh is an excellent option for custom wire baskets that require more tensile strength than wires can provide. In addition, expanded metal cuts down on the need for extra welding operations, compared to using individual steel wires, thus making it faster and easier to make sturdy baskets.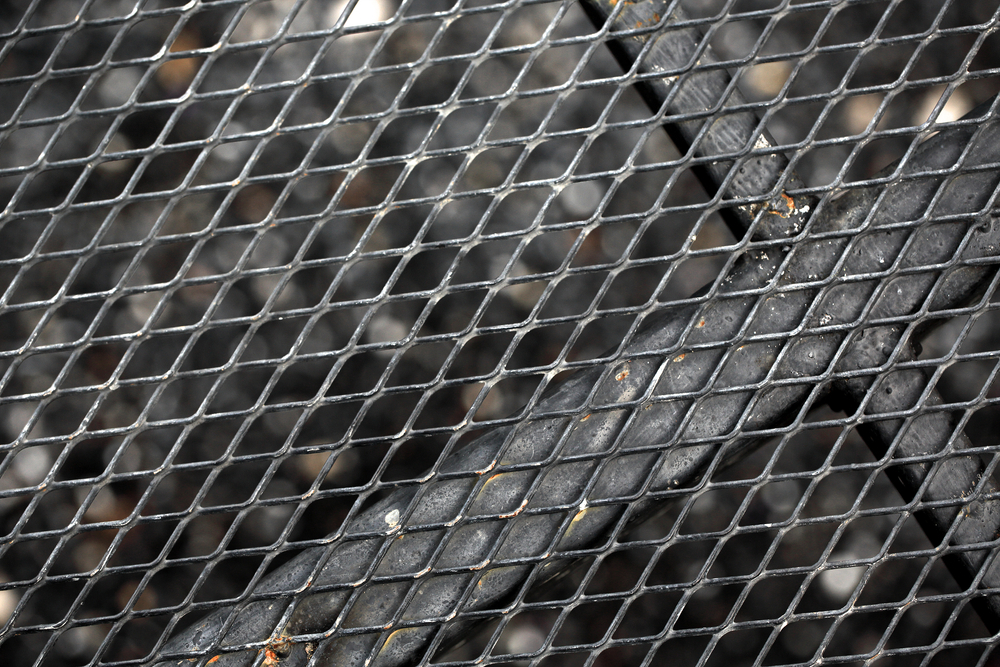 Applications
Uses of expanded metal mesh include architectural, walkway platforms, grates, drainage covers, construction, automobiles, electric instruments, fencing, vessels, roads, machinery and mesh covers.
Grades
One of the common grades of low carbon steel expanded metal mesh is JIS G3131. JIS G3131 is a low carbon steel that when galvanised, effectively holds up against corrosion and provides exceptional strength, coupled with formability. Hot-dipped galvanised JIS G3131 expanded metals are a cost effective solution for long term to medium corrosion protection. Galvanised JIS G3131 expanded metal mesh offer excellent durability and can be powder coated to improve the appearance for architectural applications.
Galvanised expanded metal mesh are commonly hot-dip galvanised in accordance to ASTM A123 or EN ISO 1461 standard.
Common Grades, Sizes and Specifi­cations
Grades
Hole Size
Width
Length
Thickness
JIS G3131
From 6mm x 12mm
Up to 1220mm
Up to 2440mm
From 0.5mm
A1100
From 6mm x 12mm
Up to 1220mm
Up to 2440mm
From 0.5mm
SS304
From 6mm x 12mm
Up to 1220mm
Up to 2440mm
From 0.5mm
SS316
From 6mm x 12mm
Up to 1220mm
Up to 2440mm
From 0.5mm
Other expanded metal mesh sizes and grades are available upon request. You can request to cut your expanded metal mesh down to size.
Kian Huat Metal
Kian Huat Metal is Singapore's leading expanded metal mesh supplier with a wide distribution network that spans over 20 countries in the Asia Pacific region. With over 30 years of experience, we provide the very best quality products, prompt delivery and highest standard of services at competitive prices. At Kian Huat Metal, we supply an extensive range of metals for various applications. Our inventory includes: stainless steel, structural steel, mild steel, galvanised steel, aluminium, brass, bronze and copper. Our hot rolled and cold rolled steel is available in a wide range of shapes including: bars, rods, universal beams, universal columns, pipes, hollow sections, channels, sheets and plates. We can cut according to your exact specifications.

quality assurance
We ensure product quality and consistency through best practices and quality control that conform to local and international standards.

on time delivery
Our highly skilled team of drivers will ensure your orders are delivered within the time requested.

one stop shop
We offer a competitively priced and extensive range of steel products for all industries.
send an enquiry
If you have any questions related to our products or inquiry, we are happy to assist you. We will answer you via email as soon as possible. If you prefer to be contacted by phone, please leave your phone number. *
TRUSTED BY COMPANIES WORLDWIDE