After stainless steel, aluminium is the most commonly used metal. It is used in many industries and for various purposes. From your usual household appliances to mechanical parts, aluminium materials have a wide impact in the construction of applications.
There are also many aluminium grades, mainly due to its properties such as corrosion resistance and a great strength to weight ratio. Aluminium is also popular due to its flexibility that allows creation of various alloys with slightly different properties.
When it comes to choosing the right grade of aluminium for a particular application, it is best to play it by the numbers. Today, we will take a look at the different grades of aluminium their applications in different industries.
---
What is an Aluminium Alloy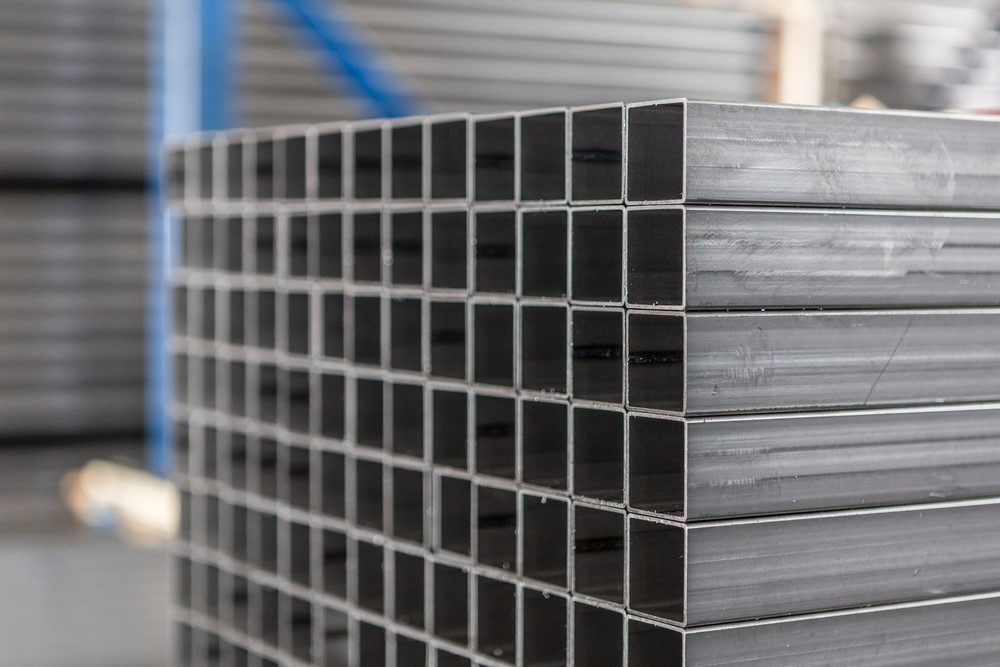 An aluminium alloy is a chemical composition where other elements are added to pure aluminium in order to enhance its properties, primarily to increase its strength. These other elements include iron, copper, silicon, magnesium, manganese and zinc at levels that combined may make up as much as 15 percent of the alloy by weight.  Alloys are assigned a four-digit number, in which the first digit identifies a general class, or series, characterized by its main alloying elements. 
---
Types of aluminium alloys
Before we break the series numbers down, we must understand that there are at least three groups that are commonly used to categorize the alloys for extrusion.
Commercially pure aluminium alloys are made up of roughly 99% aluminium, have excellent corrosion resistance, a high degree of workability and possess high thermal and electrical conductivity.
Heat-treatable alloys are strengthened through an extreme heating and cooling process. Alloys are heated to specific points to evenly distribute the elements within and then rapidly cooled to freeze them in place. 
Non heat-treatable alloys are strengthened by a process called cold working. Cold working occurs during rolling and forging methods. The "working" action increases the strength of the metal.
| | | |
| --- | --- | --- |
| Series Number | Alloying Element | Alloy Category |
| 1XXX | Aluminium | Commercially Pure |
| 2XXX | Copper | Heat-Treatable |
| 3XXX | Manganese | Non Heat-Treatable |
| 4XXX | Silicon | Non Heat-Treatable |
| 5XXX | Magnesium | Non Heat-Treatable |
| 6XXX | Magnesium and Silicon | Heat-Treatable |
| 7XXX | Zinc | Heat-Treatable |
---
1xxx Series
1xxx alloys are the purest forms of aluminium, as they contain at least 99.00% aluminium. They are very useful as chemical or electrical materials and have exceptional corrosion resistance and workability. These alloys can be strain hardened or given increased strength by mechanical deformation.
A popular alloy of this class is 1100 aluminium alloy, which is commercially pure aluminium. The material is soft and ductile and has excellent workability, making it suitable for hard-forming applications. It can be welded using any method, but it is non heat-treatable. It has excellent corrosion resistance and is widely used in the chemical and food processing sectors.
---
2xxx Series
2xxx alloys are copper based alloys, with often small amounts of magnesium as their alloying elements. They gain exceptional strength when heat-treated, rivaling low carbon steels, but are prone to corrosion due to its copper content.
2024 aluminium alloy is one of the most frequently used high strength aluminium alloys. It is frequently used where an excellent strength-to-weight ratio is desired with its mixture of high strength and outstanding fatigue resistance.  This grade can be machined to a high finish, and if necessary, it can be formed with subsequent heat treatment in the annealed condition. The corrosion resistance of this grade is relatively low. Therefore, these alloys are usually painted or clad to prevent atmospheric corrosion.
---
3xxx Series
3xxx alloys are the most widely used of all aluminium alloys and are made from commercially pure aluminium with added manganese to increase its strength. These moderate-strength alloys have great working and finishing characteristics, which is why this grade contains one of the best general-purpose alloys available today, 3003 aluminium. It has good resistance to corrosion and workability and mostly used in applications such as heat exchangers and cooking utensils.  
---
4xxx Series
4xxx alloys combine silicon as their alloying element to lower their melting points without compromising ductility. Because of this, the 4xxx series produces excellent welding wire and brazing alloys where a lower melting point is required. Certain 4xxx alloys are generally are non-heat treatable, except when magnesium is added. Oxide finishes of 4xxx alloys look good aesthetically and are often used in architectural applications. Aluminium alloy 4047 is a popular grade which offers good thermal and electrical conductivity, corrosion resistance and a higher melting point.
---
5xxx Series
The primary alloying element in 5xxx aluminium alloys is magnesium, and is one of the most effective and widely used alloying elements for aluminium. These alloys possess moderate to high strength characteristics, good weldability and resistance to corrosion in the marine environment. Common applications of 5xxx alloys are construction, storage tanks and other marine equipment.
5052 aluminium is the highest strength alloy of the more non-heat-treatable grades. Its resistance to fatigue is better than most grades of aluminium. Alloy 5052 has a good marine atmosphere corrosion resistance and excellent workability.  It can also be drawn or formed easily into intricate shapes.
---
6xxx Series
6xxx alloys contain silicon and magnesium in order to form magnesium silicide within the alloy. Although not as strong as 2xxx and 7xxx alloys, the 6xxx alloys are versatile, heat treatable, highly formable, weldable and have moderately high strength coupled with excellent corrosion resistance. They are commonly used in architectural, marine, and structural applications.
6061 aluminium alloy is the most flexible of all heat-treatable aluminium alloys, while maintaining most of the excellent aluminium characteristics. This grade has a wide range of mechanical properties and resistance to corrosion. It can be manufactured using common methods and it has excellent workability in the annealed condition. Alloy 6061 is the most widely used alloy in the 6xxx series and is often used in vehicle and marine frames.
---
7xxx Series
7xxx alloys are the strongest of all aluminium alloys, boasting strengths exceeding some steels, which is due to using zinc as its primary alloying element. The inclusion of zinc improves its strength, which offsets its decreased workability and machinability.
The most commonly known alloys are 7050 and 7075, which are widely used in the aircraft industry due to them being the highest strength aluminium alloys available. 7075 aluminium has an excellent weight-to-strength ratio and is ideal for highly stressed parts. In the annealed condition, this grade can be formed and heat-treated if required.
---
Kian Huat Metal

Kian Huat Metal is Singapore's leading aluminium, mild steel and stainless steel supplier with major footprints across China, Indonesia, Thailand, and Malaysia. We are steel experts with over 30 years of experience in the industry and have been providing quality customer service and products.
At Kian Huat Metal, we supply a wide range of metals for a variety of applications. Our stock includes: stainless steel, mild steel, galvanized steel, aluminium, brass, bronze and copper.
For any steel-related inquiries, contact us today.