Aluminium Flat Bars
Aluminium Flat Bars
Information
Aluminium flat bar, also referred to as aluminium rectangular bar, is an extruded aluminium product that has corrosion resistance and is lightweight making it easy to work with in a wide variety of applications. Aluminium flat bar offers an excellent combination of weldability, machinability, stability and excellent strength, which is why it is used in many different industries.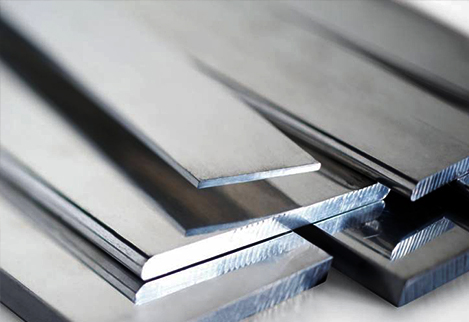 Applications
Uses of aluminium flat bar include construction, marine equipment, mining, automotive, food processing, engineering, industrial, manufacturing and aerospace industries.
Grades
Two of the most widely used grades of aluminium flat bar alloys are 6061 and 6063. AA6061 is the most versatile of all heat-treatable aluminium flat bar alloys, while maintaining most of the good qualities of aluminium. It offers a range of good mechanical properties and superior corrosion resistance. It can be welded and fabricated by many commonly used techniques and has good workability in the annealed condition. AA6061 has a good strength-to-weight ratio, therefore it is suitable for heavy-duty structures such as marine components, medical assemblies and aircraft construction.
AA6063 has a fairly low strength, but offers high quality surface and excellent corrosion resistance, as compared to other aluminium alloys. Given its resistance to corrosion, aluminium flat bars made in 6063 aluminium are excellent for outdoor use and architectural trim. 6063 aluminium flat bar is widely used within commercial and architectural industries due to its high resistance to corrosion and exceptional finishing characteristics. 6063 aluminium has good weldability and is easier to form than multipurpose 6061 aluminium. For aluminium flat bars that require greater strength, AA6063 can be heat treated for added strength.
Common Sizes, Grades and Specifications
| Grades | Width | Length | Thickness |
| --- | --- | --- | --- |
| AA6061 | Up to 200mm | Up to 6000mm | From 2.0mm |
| AA6063 | Up to 200mm | Up to 6000mm | From 2.0mm |
| AA6082 | Up to 200mm | Up to 6000mm | From 2.0mm |
Other aluminium flat bar grades and sizes are available upon request. You can request to cut your aluminium flat bars down to size.
Finishes
| Finish | Description |
| --- | --- |
| Mill Finish | Original nature of aluminium, where no mechanical or chemical finish is done on the surface. |
| Brushed Finish | Distinctive look with uniform pattern of fine lines parallel to the brushing direction. |
| Pretreatment | Etched or cleaned with an alkaline or acidic material before a pretreatment coating is applied. Applied coating enhances powder or paint adhesion and provides resistance against corrosion. |
| Bright Dipping | Electro-brightening treatment to produce smooth surface with high lustre and "mirror" finish. |
| Anodising | Protective layer of aluminium oxide providing increased resistance to corrosion and wear. |
| Powder Coating | Durable film coating that can meet stringent performance criteria, offering a wide range of colours. |
Kian Huat Metal
Kian Huat Metal is Singapore's leading aluminium flat bar supplier with a wide distribution network that spans over 20 countries in the Asia Pacific region. With over 30 years of experience, we provide the very best quality products, prompt delivery and highest standard of services at competitive prices. At Kian Huat Metal, we supply an extensive range of metals for various applications. Our inventory includes: stainless steel, structural steel, mild steel, galvanised steel, aluminium, brass, bronze and copper. Our hot rolled and cold rolled steel is available in a wide range of shapes including: bars, rods, universal beams, universal columns, pipes, hollow sections, channels, sheets and plates. We can cut according to your exact specifications. Contact us for Aluminium Supplier in Singapore at reasonable prices.

quality assurance
We ensure product quality and consistency through best practices and quality control that conform to local and international standards.

on time delivery
Our highly skilled team of drivers will ensure your orders are delivered within the time requested.

one stop shop
We offer a competitively priced and extensive range of steel products for all industries.
send an enquiry
If you have any questions related to our products or inquiry, we are happy to assist you. We will answer you via email as soon as possible. If you prefer to be contacted by phone, please leave your phone number. *
TRUSTED BY COMPANIES WORLDWIDE